Whether you're thinking about going on a picnic with that special someone or if you simply wish to go camping with your whole family and spend a couple of evenings in a tent in the wood, one of the most crucial things that you could do is to pick a suitable outdoor blanket.
However, in order for you to pick something suitable, you'll have to think about a lot of factors. Although this might seem like an easy task, it isn't and because of this, we've compiled a list of factors that you'll need to consider. So, without losing time, here are some factors that can help you pick a suitable material for a cover:
1. Firstly, The Weather Must Be Considered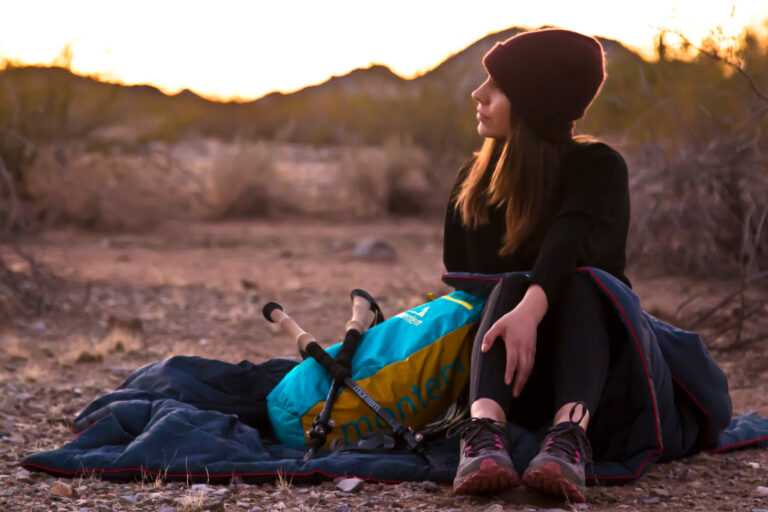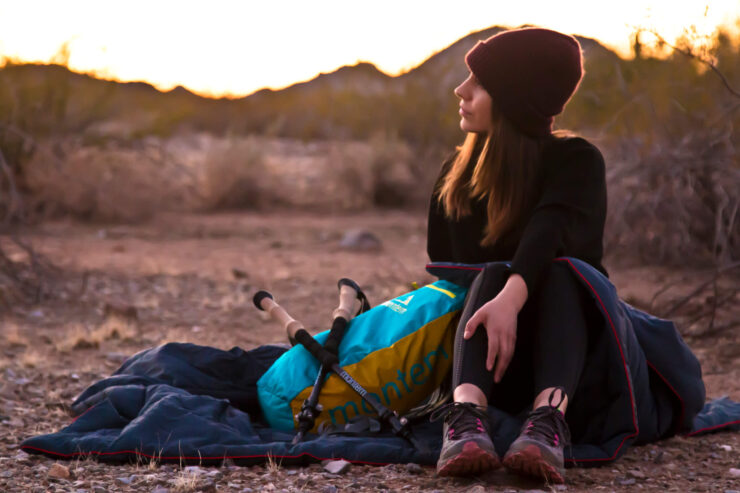 If you wish to pick a suitable material for your outdoor cover, the very first thing that must be considered is the weather and climate in the area you reside in. Generally speaking, there are three classes of climate that can dictate the material you'll pick for the blanket, which includes the following classes:
– Warm – for starters, you must know that any temperature above 60F is thought to be warm. If you live in an area where the climate is relatively warm, the blanket you opt for shouldn't be insulated, however, it does have to have moisture-wicking features. Now, even if it's hot outside, nights can get cold, especially if you're camping in the woods, thus, you'll still be required to bring a blanket with you.
– Cold – if you're planning on going camping during fall or winter, you'll definitely need a blanket to keep you warm during the day, and of course, night. Anything below 40oF is considered cold climate and if the area you live in is windy, you'll require a camping blanket that is insulated, that'll prevent heat from exiting the fabric, and that'll guarantee that you don't get cold at night (something that could lead to hypothermia).
– Wet – lastly, if there is a lot of rain in the area you reside in, a watertight blanket is a thing you'll require. Besides ensuring that you're comfortable, it'll also keep you healthy, mostly because being drenched can cause a cold. You should remember, that you won't feel cozy if you're soaking, thus, before you actually use the waterproof cover, you'll need to ensure that you dry off and change your clothes.
2. Next, Consider The Material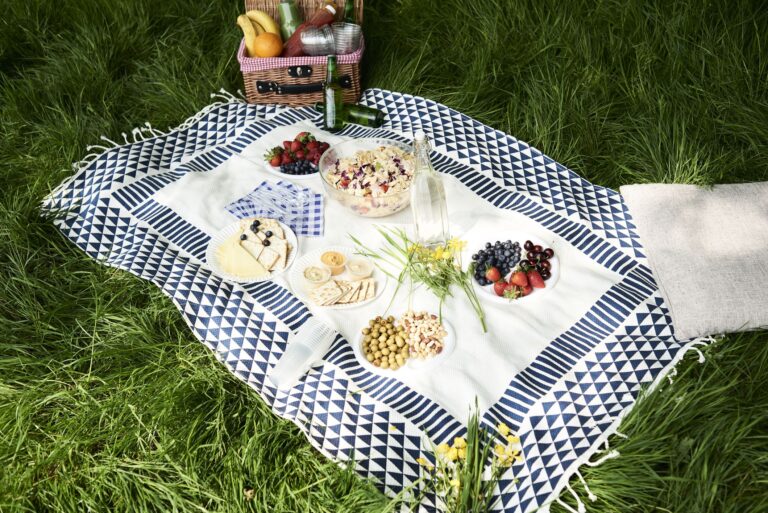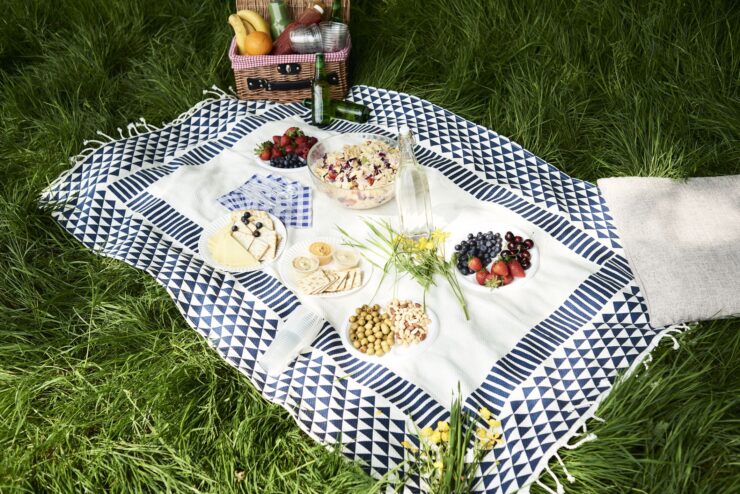 As we mentioned, the climate conditions will dictate the material you could pick for your cover, and since you now know the three most common classes of climate, you could easily pick the fabric for your outdoor blanket. Of course, there are hundreds of options available on the market, however, for the sake of this article, we'll only mention the top and most common ones used outside, including:
– Wool – Wool is completely natural and it'll keep you insulated, even if it starts raining at some point. Besides wicking away moisture from your body, it's also resistant to fire. The only downside is that the material isn't comfortable and soft, which suggests that it may not be suitable for children. Also, if it gets completely wet, it'll become quite heavy and it'll take a long time to dry, thus, it might not be suitable for wet weather.
– Foil – another option you might want to consider is a blanket manufactured from plastic or foil. Why? Well, it's thin, it'll reflect heat, and it's lightweight, thus, it could be suitable for your needs. These are perfect for colder areas, however, you should know that they aren't as durable as some other options on this list, which basically means that they won't last for a long time. Also, they're usually thin, which implies that they aren't comfortable.
– Polyester – water- and fire-proof, quite warm, as well as light, blankets made from polyester may be what you need during cold seasons. It's also quite durable and quick-drying, which is why it may be the top material on this list. You should know, that you could also order custom outdoor blankets (meaning that you can pick all of its features) and if you're interested in ordering one, check out this website.
– Fleece – this particular material is an alternative to wool and it does have almost all its features (including insulation). But, there are differences between the two options. Fleece is light and it'll dry fast, but, unlike wool, it isn't fire-proof, meaning that you might not want to utilize it while moving around an open fire. Nonetheless, it's suitable for wet and cold weather, so, consider it if it suits your needs.
3. It's Important to Consider The Size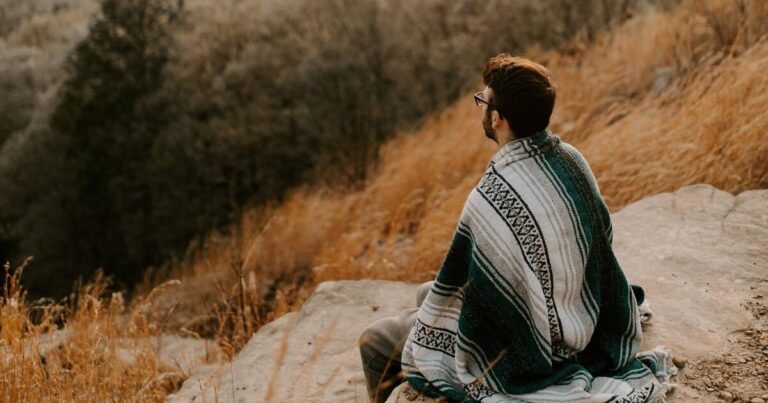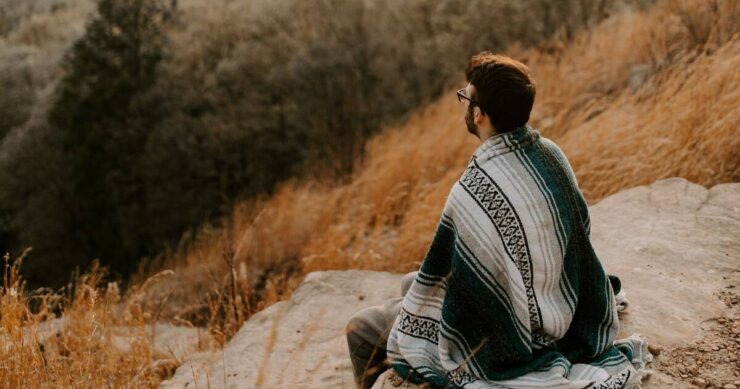 Besides all of the aforementioned things, you must also consider the weight and dimensions of the cover. Although you'll wish to purchase one that'll keep you dry/cozy/warm/cool, you'll still have to carry it from one point to the next, thus, you won't want to opt for something that is too large and too heavy. Because of this, think about the things you'll do while outside, mostly because this can help you determine what blanket size you'll require.
For example, if you'll be driving to the camp spot, the dimensions and weight of it won't matter, however, if you'll be hiking and moving from one spot to the next, considering these 2 factors is crucial. So, if you'll be walking and hiking a lot, you might want to think about getting an option manufactured from one of the lightweight materials we've mentioned since this will ensure that you could easily move around.
Conclusion
If you're planning on trekking or camping this summer or autumn, you'll definitely be required to purchase an outdoor blanket. The choice you make will entirely rely on the weather and climate in your area, as well as the activities – such as hiking or walking – while you're in nature.
Since you now know what materials you could opt for when choosing an outdoor blanket and since you know what other factors you should consider, don't lose any more of your time. Instead, use our tips to determine which blanket you'll need, and then start searching for a company that'll provide you with the item or items you need!